He's on the far right of the canvas, he's not shy, more humble I'd say. Humble in the sense that he is conscious of the fact that he is part of nature, part of the universe. He appreciates where he has come from & therefore has become. 
He is both embedded within the patterns yet still at a distance. His beard is long and vibrant , a testament to his level of spirituality he has reached thus far. 
Acrylic paint and gold leaf on canvas
Eden (paradise) begins with knowing thy self, pure love for self that is always there. We have to get out of our own way to truly appreciate all that we are. A miracle.
Where does Eden begin for you?
"The Calm Before The Storm"
This piece speaks to the moment right before we go through a deep transformation in our lives; the transition period that may feel both frightening and exciting at the same time because we're about to step into the unknown.
At the time I was transitioning into a new version of myself, not quite ready to show myself to the world but acknowledging the beauty and vibrancy that I kept close to my heart. Contemplating all the possibilities and getting ready to take that leap of faith. 
I love this piece because, no matter where I am in life, I am always going through some kind of transition. Being patient and honest with ourselves allows release and the agency to let go of who we were, to become who we want to be. So now, I embrace the transition, knowing that change is a beautiful thing.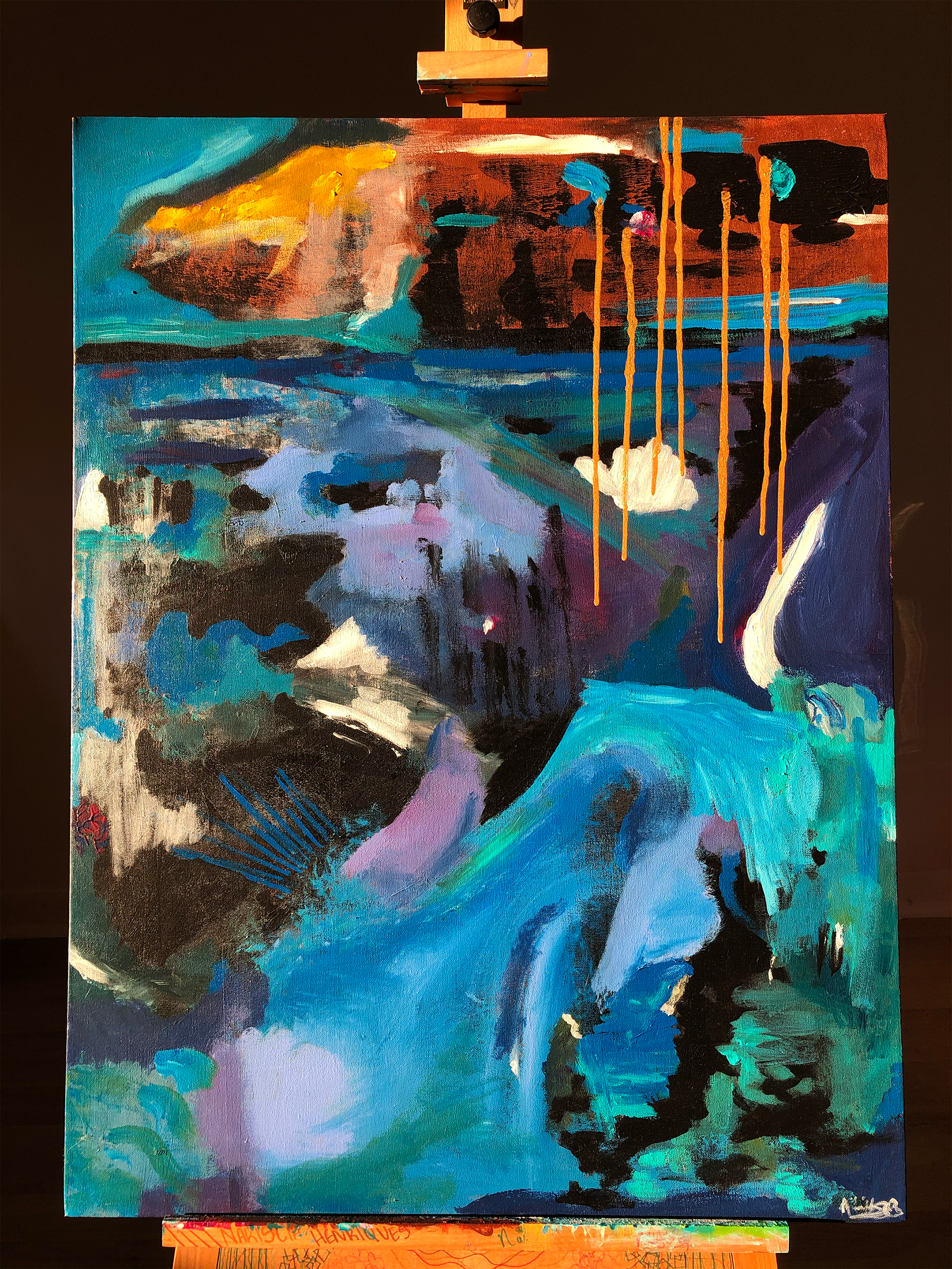 Inspired by the depth of blue, the depth of the ocean, the depth of nature, and understanding that the depth, is where we reside. The deeper we go into the unknown is actually how we remind ourselves of who we are. We discover complete clarity and knowledge of self. Sometimes we run from ourselves, too afraid to face ourselves. Not realising that once we surrender to our truth and swim to our depths, is how we reach magical heights. 
Acrylic on canvas

76cm x 102cm
"Afro-blooming"
a two-part series
Just as a plant grounds itself in the ground, we must also remember to ground ourselves.
For grounding is the first step to blooming into the beautiful being you are meant to be.
Both paintings are a representation of growth and blooming into our higher selves.